Apple's Asia-Pacific Online Stores Begin Taking iPad Air Orders, Shipping Within 24 Hours
After going offline earlier today in advance of today's iPad Air launch, Apple's online stores in the Asia-Pacific region have returned for business.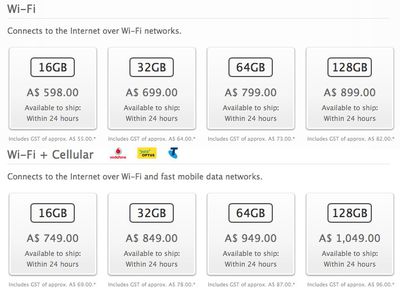 In line with reports that supplies would be plentiful, all models of the iPad Air are currently listed as shipping within 24 hours in Australia, China (only Wi-Fi models available), Japan, and Singapore, while Apple's Hong Kong store is listing 1-2 week shipping estimates.
All Apple online stores around the world are currently online, but the company's European stores will be going offline later today in advance of orders going live in a number of countries there. North America will follow several hours later, with orders set to go live in the U.S. and Canada at 12:01 AM Pacific Time.
Update: All iPad Air models in Apple's Hong Kong online store have now moved to "Currently Unavailable". Apple's outlets in Hong Kong invariably see high demand as customers seek to purchase devices there and export them to China. While that impact may be partially muted by the fact that Wi-Fi models are also launching in China itself today, pricing differences mean that the same devices are up to 15% cheaper in Hong Kong than in China.