Apple Online Store Opens in Turkey With Full Product Lineup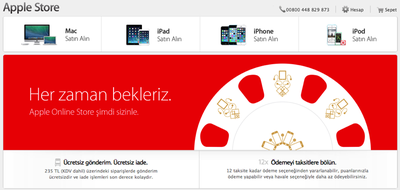 Apple opened its online store to customers in Turkey today, bringing direct ordering of its full lineup of products to the the country's 74 million residents.
Apple is set to open its first Turkish retail store in Instanbul at the beginning of 2014, with several other stores in the country in the pipeline. Earlier this year, Apple launched its online store in Russia as international sales make up an increasing portion of Apple's revenue.
Turkey is not part of the first round of countries selling the iPad Air.
(Thanks, Goktug!)