Original iPad 3G Customers Begin Receiving Claim Forms for Apple/AT&T Data Plan Settlement
Back in September, a court gave initial approval of a settlement in a class-action lawsuit against Apple and AT&T alleging that the companies failed to live up to customer expectations with advertised data plans for 3G-capable models of the original iPad. At the device's launch, Apple touted a $29.99/month unlimited data plan through AT&T, but just two months after the 3G iPad models became available AT&T discontinued the plan in favor of a capped data plan.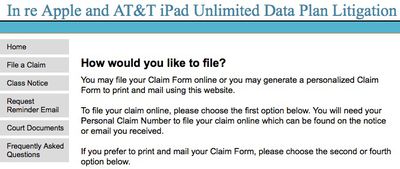 Today, the administrator handling the settlement began sending out claim forms to customers who purchased or ordered an original iPad Wi-Fi + 3G on or before June 7, 2010, allowing them to register to receive their settlement benefits. Claim forms must be filed by February 3, 2014, and the final settlement terms still need to approved by the court.
Under the terms of settlement, all U.S. customers who purchased a 3G-capable iPad will be eligible for a $40 payment from Apple. Those customers who purchased the affected device but did not activate a data plan will also be eligible for a $20 discount on AT&T's 5 GB iPad data plan, good for one year. Current pricing for that data plan is set at $50/month, so the settlement will reduce that fee to $30/month for that one-year period.
On the claim form, customers must attest that the ability to switch in and out of the unlimited data plan was a factor in their decision to purchase the 3G iPad. Customers must also provide the serial number and IMEI number for the device in order to be credited with the data plan benefit. For any customer eligible for the data plan benefit but who is no longer in possession of the affected iPad, he or she may apply the benefit to a newer iPad by submitting the serial number and IMEI number of that newer device.
Full details on the settlement and required claim forms are available on the settlement website.