iPad Air Graphics Performance 40-70% Better Than iPad 4
The iPad Air's graphics performance was 40 to 70 percent better than its predecessor in benchmarks conducted by AnandTech in an extensive review of the new tablet. Like the iPhone 5s, the iPad Air incorporates an A7 chip with IMG's PowerVR G6430 graphics processing unit (GPU), which is estimated to have a max GPU clock of 450 Mhz.
In T-Rex HD game simulation benchmarks, the iPad Air performed up to 75 percent better than the fourth-generation iPad and up to 36 percent better in the 3DMark Ice Storm benchmark. GPU gains over the iPad 4 were as high as 60 percent in 3DMark's GPU-specific benchmark suite.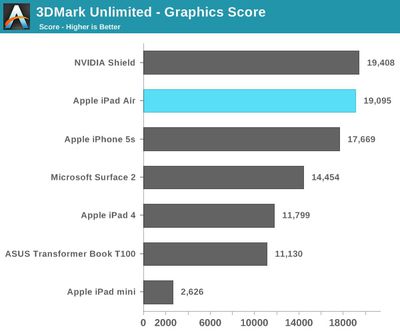 While the iPad Air outperformed the iPad 4 in the majority of tests, there was a decline in triangle rate performance in the new model, though AnandTech has yet to see any real world impact from this change.
Along with significant improvements in GPU performance, the iPad Air has also shown huge gains in processing power. In Geekbench 3 benchmarks published today, the iPad Air was found to be twice as fast as the iPad 4.
AnandTech has a full review of the iPad Air that includes an array of benchmarks comparing the GPU performance of the iPad Air, the fourth-generation iPad, the iPhone 5s, the iPad mini, and several competing Android tablets. It's well worth a read to see the full scope of the iPad Air's performance improvements over both its predecessor and other tablets on the market.