iPad Air Benchmarks Reveal 1.4 GHz A7 Processor, 2x Performance Gain Over iPad 4
John Poole of Primate Labs has revealed Geekbench 3 benchmarks for the new iPad Air, revealing that the device's 64-bit A7 chip is running at 1.4 GHz, scoring a 1465 on the single-core test and a 2643 on the multi-core test.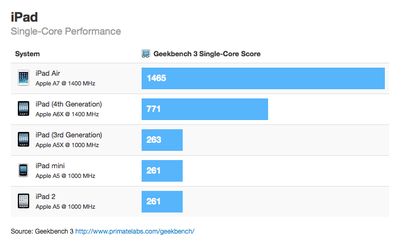 True to Apple's claims, the iPad Air benchmarks about twice as fast as the 4th generation iPad, with the A7 processor found in the new iPad coming in at 100MHz faster than the 1.3 GHz A7 chip found on the iPhone 5s. Poole claims that this is likely due to a number of factors such as a larger battery in the iPad Air that provides more power and a larger chassis that provides better cooling. Poole also notes that he expects the upcoming iPad mini with Retina Display to use the same A7 chip running at 1.4 GHz.


The iPad Air will be available beginning on Friday, November 1, with initial online orders beginning at 12:01 AM Pacific Time in the United States and at varying times in other countries. Apple retail locations will open at 8 AM local time on Friday to begin in-store sales.