U.S. Regional Carriers Gearing Up to Begin Offering Cellular-Capable iPad Air [Updated]
With the first round of launches for the iPad Air scheduled for next Friday, November 1, Apple will be expanding its carrier partnerships in the U.S. for sales of cellular-capable models to include T-Mobile for the first time. The expansion will, however, go even further, as several smaller carriers have announced today that they will begin selling Wi-Fi + Cellular versions of the iPad Air "in the coming weeks".
Mississippi-based C Spire, which became the first regional carrier to offer the iPhone in late 2011, is one of the carriers announcing iPad Air availability in the near future.
C Spire today announced that iPad Air with Wi-Fi + Cellular will be available on its 4G LTE network in the coming weeks.

C Spire will offer iPad Air with a range of attractive data plans that will allow customers to connect to its fast 4G LTE mobile broadband network with speeds up to 10 times faster than previously available.
Kentucky-based Bluegrass Cellular has also sent out a press release announcing availability "in the coming weeks".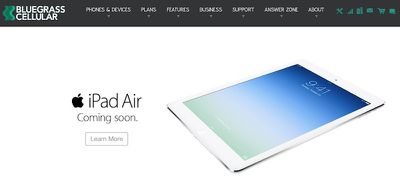 We have yet to see word from any other regional carriers about iPad Air availability, but we will update this post if more carriers do confirm plans to offer the device.
It seems likely that those carriers preparing to offer the iPad Air will also offer the iPad mini with Retina display, but Apple has yet to announce an exact date for the first wave of launches of that device. It is also possible that smaller carriers may see somewhat longer delays before they can offer the iPad mini, as supplies of the device are expected to be extremely tight into 2014.
Update: Alaskan carrier GCI has also announced plans to begin offering the iPad Air, as has U.S. Cellular. According to an email sent out today, U.S. Cellular, the fifth-largest carrier in the United States, will begin offering the iPad Air on November 8, the first concrete date release provided by a regional carrier.