OS X Mavericks Adoption Pushing Past 7% in Under 24 Hours
Less than 24 hours after OS X Mavericks launched for free in the Mac App Store, roughly 7% of Mac traffic is already coming from machines upgraded to the new operating system, according to a live tracker hosted by analytics firm GoSquared. The tracker shows adoption sitting at around 0.5-0.7% yesterday until beginning its upward march upon the public release.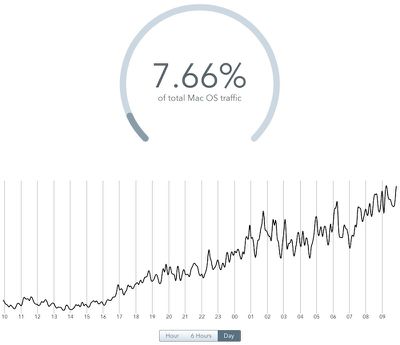 While analytics data is difficult to compare between services, last year Chitika found 3% of Mac traffic coming from OS X Mountain Lion as of 48 hours after its launch. Unsurprisingly, GoSquared's data hints that Mavericks may be seeing significantly faster adoption compared to Mountain Lion due to the free nature of the new upgrade.
GoSquared CEO James Gill tells MacRumors that his firm currently provides analytics for over 40,000 sites, allowing it to monitor billions of page views per month. That base allows the firm to offer a reasonable snapshot of activity at any given time.
While Mavericks is growing rapidly, it still represents a small fraction of the Mac user base, with GoSquared's numbers showing just under 50% of traffic coming from OS X Mountain Lion and almost all of the remainder split nearly evenly between OS X Lion and OS X Snow Leopared. Users on any of those systems can upgrade directly to Mavericks at no cost through the Mac App Store.