Updated Versions of iWork and iLife Begin Appearing on the App Store
Apple today released major updates of its iWork and iLife suites for both iOS and OS X. All the apps are now live on their various App Stores.
"This is the biggest day for apps in Apple's history," said Eddy Cue, Apple's senior vice president of Internet Software and Services. "These new versions deliver seamless experiences across devices that you can't find anywhere else and are packed with great features like iMovie Theater, Drummer and a new unified file format for iWork documents across all your devices."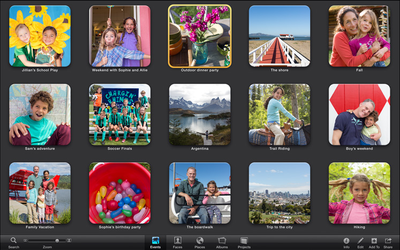 The iLife suite has been revamped for both platforms, with iPhoto receiving a new look on iOS along with the ability to create and order photo books on the iPad. Both iPhoto for Mac and iPhoto for iOS are 64-bit-optimized, allowing for faster browsing and editing. New tools are included that allow users to create more dramatic images, and favorite images can be saved as custom slideshows.


iMovie has been revamped with a design that makes it easier to browse through the video library, also including enhanced sharing tools. iMovie for Mac offers simplified editing tools to quickly improve the look of a movie or add fun effects, while iMovie for iOS introduces desktop-class moviemaking to the iPad and the iPhone. Users can create split screen and picture-in-picture effects, along with advanced audio edits. iMovie Theater, a newly added feature, allows users to watch shared clips, movies, and trailers on all Apple devices, including the Apple TV.


GarageBand has also been updated, with the Mac version adding a new Sound Library, Smart Controls, and a new feature called "Drummer," that plays music automatically along with a user. GarageBand for iOS includes an iOS 7-style redesign and Inter-App Audio, allowing users to record third-party music apps into GarageBand. On 32-bit iOS devices, 16 tracks can be added, while 64-bit iOS devices support 32 tracks. iCloud integration allows for seamless editing between iOS and Mac.


iWork for Mac, iOS, and iCloud have been updated to make it easier to create and share documents with a unified file format. With a new collaboration tool, iWork for iCloud allows multiple users to edit the same document at the same time, regardless of the device they're working with. iWork has gained a new, simpler user interface, with content-sensitive toolbars in Pages including and object-based design and interactive charts in Numbers. Keynote includes all new transitions and other object-based effects.
iWork for iCloud is fully supported on the latest versions of Safari (OS X), Internet Explorer (Windows), and Google Chrome. Apple says on older versions of Safari and Chrome, and all versions of Firefox, iWork for iCloud will work, but not all features will "work as expected".
For iWork for Mac, Apple appears to be updating the existing iWork apps, meaning users who have previously purchased iWork on the Mac App Store get the new apps for free. Both the iLife and iWork apps are free with the purchase of any new Mac or iOS device, but for users with older devices that don't own the apps, they are available for $14.99/each on the Mac App Store and $4.99/each on the iOS App Store.
Update: Some users with older copies of iLife and iWork are reporting difficulties with upgrading to the new versions.
iPhoto for Mac - [Mac App Store]
iMovie for Mac - [Mac App Store]
GarageBand for Mac - [Mac App Store]
iPhoto for iOS - [App Store]
iMovie for iOS - [App Store]
GarageBand for iOS - [App Store]
Pages for Mac - [Mac App Store]
Numbers for Mac - [Mac App Store]
Keynote for Mac [Mac App Store]
Pages for iOS - [App Store]
Numbers for iOS - [App Store]
Keynote for iOS - [App Store]