Apple's Massive 'Steve Jobs Patent' for the iPhone Reconfirmed in its Entirety
Last December, the U.S. Patent and Trademark Office (USPTO) in response to a challenge preliminarily invalidated the so-called "Steve Jobs patent", a massive 364-page patent with 293 pages of drawings dating back to September 2006 and covering many details of the original iPhone. Steve Jobs is listed as the first of over two dozen inventors on the patent, and it is considered perhaps the most famous of his over 300 credited patents.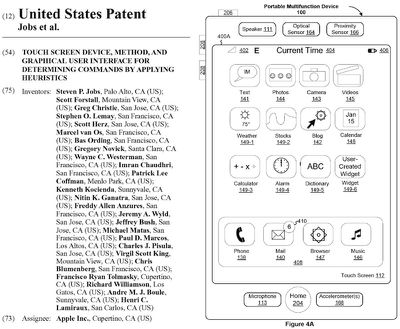 But as noted by FOSS Patents, the USPTO has now completed its reexamination of the patent and ruled that all twenty claims have been confirmed as patentable, significantly strengthening a patent that has been used against several of Apple's competitors in court.
As we speak, the Steve Jobs patent is even stronger than it was before someone (presumably Samsung and Google) challenged it anonymously. On September 4, 2013, the USPTO issued a reexamination certificate confirming the patentability of all 20 claims because the prior art neither anticipated this invention nor renders it obvious.
A number of Apple's key patents have been challenged for reexamination as its competitors have sought to derail Apple's claims against them in various court battles. While the USPTO has issued preliminary "first office actions" invalidating those patents in some cases, Apple has been successful in arguing its case and ultimately restoring the validity of at least the most important claims of those patents. In an example from earlier this year, a key claim of Apple's "rubber banding" patent used against Samsung was confirmed after having been preliminary invalidated last year.