Key Claim of Apple's 'Rubber Banding' Patent Used Against Samsung Confirmed
Apple's "rubber banding" patent (U.S. No. 7,469,381) has been under heavy scrutiny in recent months, with a number of claims found invalid in two different rulings.
The patent, which pertains to the ability for content displayed on iOS devices to "bounce back" when a user scrolls to the top or the bottom of a page, is significant because it is one that was successfully used by Apple against Samsung in the ongoing legal dispute that saw Apple awarded with more than a billion dollars.
According to FOSS Patents, Apple has scored a major victory in regards to the '381 patent, having just received notice that the United States Patent and Trademark Office (USPTO) will issue a reexamination certificate that confirms the formerly invalidated claim 19, which was the portion of the patent used against Samsung. In April, three other claims were also confirmed.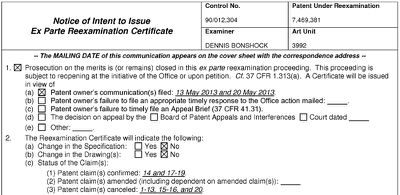 As a result of this new reexamination certificate, claim 19 will enjoy an enhanced presumption of validity against the invalidity theories the patent office evaluated. Instead of invalidation in mid–2017 or later, this patent has now been confirmed in mid–2013.

Apple would presumably have liked to salvage even more claims than the seven claims the patent office is now going to confirm, but claim 19 is the one that matters in the dispute with Samsung, and it's now stronger than ever.
Samsung has, at multiple points in time, attempted to have the rubber banding patent declared invalid and has also attempted to use the question of the patent's validity as a reason to delay the November trial that will redetermine a portion of the damages that Samsung must pay to Apple after the original $1 billion ruling was partially thrown out due to jury error.
With the new reexamination certificate, it is unlikely that Samsung will be able to delay or avoid the November trial that will levy additional damages against the company.