Jony Ive and Marc Newson Discuss Design, Obsession With Perfection in New Interview
Apple's senior vice president of design Jonathan Ive and industrial designer Marc Newson have collaborated on more than 40 objects, such as the one-of-a-kind Leica Rangefinder camera and the solid gold Apple EarPods, that will be auctioned at Sotheby's in New York later this year to benefit Product (RED), Bono's charity that has a long running partnership with Apple.
The duo interviewed with Vanity Fair to talk about the collaborative design process and the exceptional amount of work that went into many of the products that will be up for auction.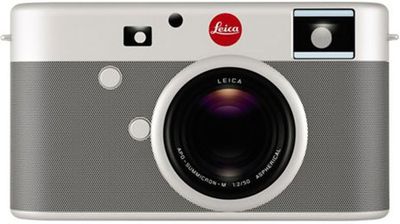 Despite differences in aesthetic taste, Ive and Newson work well together due to an uncompromising obsession with detail and a shared belief that design involves more than surface appearance, a point that Jony Ive has spoken about in prior interviews.
"We are both fanatical in terms of care and attention to things people don't see immediately," Ive said. "It's like finishing the back of a drawer. Nobody's going to see it, but you do it anyway. Products are a form of communication—they demonstrate your value system, what you care about."

"You discover that very few people have the level of perfection we do. It is actually very sick," Newson said. "It is neurotic."

Later, waving his hand around the Claridge's suite, Ive said, "All of us in this room see the same things, the same objects, but Marc and I see what's behind them."
Coming up with a theme and deciding what to produce took the two men more than a year and a half, with months spent contemplating what to include, tracking down rare objects, and contacting manufacturers and factories. An extensive amount of time went into each object, especially the two handmade items – a desk and the Leica camera.
"I found it a very odd and unusual thing to put this amount of love and energy into one thing, where you are only going to make one," Ive said. "But isn't it beautiful?" The camera's dollar worth is hard to estimate, since it is an art piece as much as a functioning object, but the value of the time Ive, Newson, and Leica's own engineers put into it probably totals well into six figures, and possibly seven.
The camera that Ive designed involved 947 prototype parts and 561 models. 55 Apple engineers assisted in the process, spending a collective 2,149 hours. Final assembly of the finished camera took 50 hours and more than six days.
During the interview, Ive also had a few words to say about the care and the precision involved in designing the iPhone, a set of qualities that distinguish Apple and its products from other smartphone manufacturers.
"The most important thing is that you actually care, that you do something to the very best of your ability," Ive told me. "We can't explain it in a fiscal sense, but the care that goes into the iPhone is equivalent to what goes into watches and other things that are significantly more expensive. I love the idea that the phone will be so broadly accessible."
The full Vanity Fair article, which includes further tidbits on the design histories of both Ive and Newson along with detailed information on several other products that will be up for auction, is well worth a read. The Sotheby's auction for Product (RED) will take place on November 23.