iPad Mini and Fourth-Generation iPad Have Most Responsive Tablet Touch Screens
The iPad mini and the fourth-generation iPad have the most responsive touch screens, according to a new set of TouchMark benchmarks from cloud streaming company Agawi.
In its latest TouchMark test, Agawi tested the screen latencies of several different tablets, including the iPads, the Microsoft Surface RT, the Kindle Fire HD, the Nexus 7, the Galaxy Tab 3, and the Nvidia SHIELD.
Apple's iPad mini had the lowest Minimum App Response Time (MART), coming in at 75 milliseconds. The fourth-generation iPad came in second at 81, and the fastest Android tablet was the NVIDIA Shield at 92. Samsung's Galaxy Tab 3 had the worst response time, at 168 milliseconds.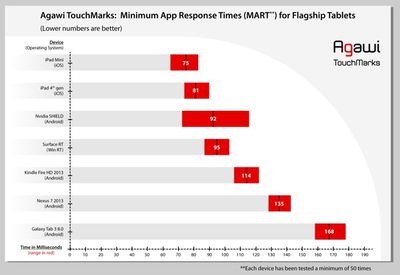 In a result that's perhaps now unsurprising, the iOS devices are more responsive than its competitors. Interestingly, the iPad mini – with its smaller screen and 1024×768 resolution – performs similarly to the larger fourth generation iPad and its 2048×1536 resolution, suggesting that responsiveness is not reduced by the larger screen size or resolution.

Our previous speculations continue to apply – more responsive devices may process touches earlier in the stack, poll for touches more frequently or have touchscreens optimized or calibrated to be more responsive. In our latest review of our test apps, we discovered an optimization that suggests that the GPU or GPU drivers in the devices might also add significant latency.
To obtain MART scores for each of the tablets, Agawi used a 240fps high frame rate camera along with a custom-built device called a Touchscope. The MART is the latency experienced between the time that a user touches the device display to the device's on-screen response time.
Previously, Agawi measured the response time of Apple's iPhone 5 compared to several other Android and Windows smartphones, with the iPhone 5 demonstrating a MART time of 55 milliseconds, which is significantly faster than even its own iPads.