After developer AgileBits released details on 1Password 4 in August, the company has now released the new version of its popular password managing software for the Mac. Specifically, 1Password has been completely redesigned for OS X and promises compatibility with the upcoming OS X Mavericks, along with features such as iCloud syncing for passwords in addition to Dropbox and Wi-Fi Sync access and multiple password vault support featuring AES-256 encryption. The update also includes rewritten browser extensions and new fields for additional categories such as loyalty programs.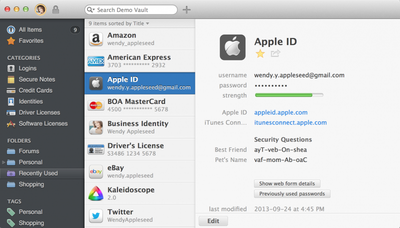 Keeping you safe. 1Password has been protecting people for nearly a decade. 1Password 4 builds upon this rich history to bring you the best possible security with unmatched productivity.

Security made beautiful. 1Password 4 has been re-written from pixel to bit to give you the best possible experience wrapped in a gorgeous new UI.

Saving you time. 1Password makes it simple to use strong unique passwords. Being secure with 1Password is easier than being at risk using weak ones you have to remember and type manually.

1Password 4 also offers a new "Security Audit" section in the main sidebar, allowing users to easily which logins are currently weak passwords, as well as which passwords are used across multiple sites or have not been changed in a significant period of time.


1Password 4 is a $39.99 download and is avaliable on the Mac App Store. [Direct Link]