Reuters Also Confirms Gold iPhone, Speculates on Potential China Popularity
Reuters has added to the long list of confirmations and claims that Apple will introduce a gold variant of iPhone with its next device - the iPhone 5S. The report cites supply chain sources in Taiwan for the information.
This follows a research note last week in which KGI Securities analyst Ming-Chi Kuo stated that Apple would offer an iPhone in a gold casing in addition to the more traditional black and white. TechCrunch's MG Siegler followed up with his own claims and AllThingsD and 9to5Mac soon followed.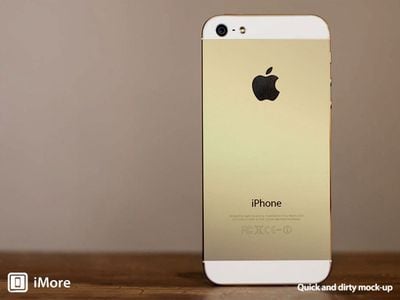 Gold iPhone 5S mockup. (Source: iMore)
Siegler speculated that a gold iPhone could be an effort to upsell customers in emerging markets like India and China, where gold is popular, where the low-cost iPhone 5C is expected to be a significant device. Reuters interviewed Jerry Zou, Senior VP and Partner at public relations firm FleishmanHillard in Beijing, whether a gold device would appeal to Chinese customers.

Commercially it makes sense, said Jerry Zou, Senior VP and Partner at FleishmanHillard, a public relations firm in Beijing. New colors would add "novelty and variety, both of which are key to winning over fickle Chinese consumers.
Zou went on to say that a champagne or gold color would be able to portray a luxury or high-end image that was also more restrained and subtle. Most of the customers Reuters interviewed at Apple's Xidan store, however, weren't sold on the idea of a gold iPhone, and consumers in India were "just as skeptical."
Reuters also spoke to Brandon Edwards, a Shanghai-based product designer who believes that a gold iPhone may only add cultural relevance for Apple's existing customers in the country rather than attract new ones who are using other smartphone brands.
Apple is expected to unveil the iPhone 5S at an event on September 10, with a fingerprint sensor and perhaps a new 128 GB maximum storage capacity being other significant additions besides the new gold color option.