AllThingsD Confirms Apple Will Release a Gold iPhone
After numerous publications reported on the existence of a gold color option for the upcoming iPhone 5S this weekend, AllThingsD and 9to5Mac this morning have reported that gold will indeed be a new option.
This is in addition to the existing black-and-slate and white-and-silver options for the iPhone 5. John Paczkowski for AllThingsD:

Apple is adding a new color to the iPhone color palette, and yes, it is indeed gold.

Sources in position to know tell AllThingsD that Apple, after years of offering the iPhone in either black and white, will soon offer it in a gold tone as well.

The new color option was described to AllThingsD as an "elegant" gold tone. "Think champagne, not ingot," a source said. Sources say that the gold iPhone will feature a white face, with a gold-tone back plate and chamfered edging.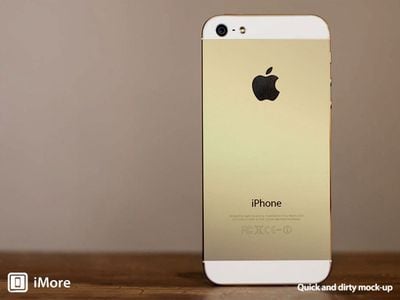 Mockup of iPhone 5S in "champagne" (Source: iMore)
9to5Mac
's Mark Gurman is
reporting separately
with additional details about the new color, and his sources have often proven accurate in the past:
While many have called this new iPhone color "gold," our source says that the color is more inline with the yellow fifth-generation iPod touch, but slightly lighter in texture. Some have called this "champagne" and that sounds about right. We've also heard that this gold model has a white front-face, so it won't be a black and gold device, but rather a white and "gold/champagne" phone.
Gurman also says that the iPhone 5S home button will not take on a convex shape and that it will in fact be nearly indistinguishable from the current design.