Apple Revamps and Expands its Education Page Ahead of iOS 7 Launch
Apple has launched (via The Loop) a newly redesigned "Apple and Education" page on its website, with a simplified design and re-imagined categories that tout iPads, Macs, Special Education, and "Real Stories."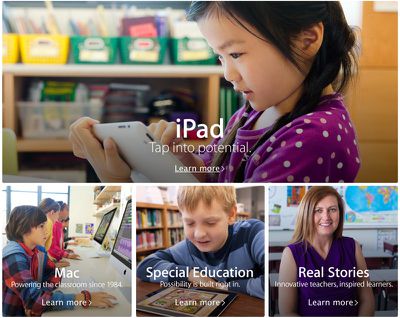 "We believe that technology has the power to transform the classroom. It can pave new ways of thinking. New ways of sparking ideas. Yet the foundation never changes: A dedication to learning that's always been part of our DNA. We've been proud to work alongside educators and students to reinvent what it means to teach and learn. And together we're going things we never thought possible."
Each individual section on the site offers resources for both teachers and parents. In the iPad section, for example, Apple shares information on teaching with the iPad, apps for lesson planning, and teacher stories. The Mac section highlights productivity apps in the iLife and iWork software suites, along with the Mac App Store.
In its Special Education section, Apple promotes the accessibility options available with both iOS and OS X and the Real Stories portion of the site offers up teacher experiences and profiles of schools that have successfully incorporated Apple products into their classrooms.
Apple's revamped education site comes as the company prepares to implement sweeping changes to its educational program with the introduction of iOS 7. As part of its efforts to increase device usage in schools, Apple will permit children under age 13 to own and operate individual iTunes accounts for the first time. The company is also adding a number of new tools for teachers, including new Mobile Device Management options.
In recent months, Apple has been involved in several large deals that will see expanded iPad use in classrooms. In June the company won a $30 million contract from the L.A. Unified School District and Tim Cook has also been in talks with the Turkish President over a $4.5 billion educational deal.