Upcoming 12-Core Xeon CPU Destined for Apple's New Mac Pro Posts Impressive Benchmark Scores
Just days after Apple teased its upcoming radical redesign for the Mac Pro back in June, a Geekbench 2 result appeared to offer some data on just such a Mac Pro running a 12-core 2.7 GHz Intel Xeon E5-2697 v2 processor, 64 GB of RAM, and a custom build of OS X Mavericks. Many observers were disappointed to see that the machine received a Geekbench 2 score of just under 24,000, only marginally higher than a top-end 2012 Mac Pro, a machine that was considered by many to be outdated from the day it was launched.
Others had noted that prototype hardware, beta software, and a 32-bit Geekbench run were likely to have limited the performance seen in the benchmarks, with the final shipping version of the Mac Pro due for launch later this year perhaps seeing substantial improvements under a 64-bit version of Geekbench 2.
Tom's Hardware has now gotten its hands on this exact processor expected to make its way into the Mac Pro and put it through rigorous testing in a Windows setup, subjecting the system to numerous benchmarking tools including the 64-bit version Geekbench 2. While the results do not provide an exact answer to how well the chip will benchmark in a Mac Pro, it does offer some perspective on what kind of performance might be possible.
The leaked result was run using the free 32-bit build of Geekbench on a pre-release build of OS X Mavericks. Switching over to the paid 64-bit build of the benchmark adds SSE support, though that's still a pre-Pentium 4 extension. Tab between the 32- and 64-bit runs on Xeon X5675-based systems and you'll find that the SSE-capable build averages 14%-better performance.

Curious as to how the very same 12-core Xeon [E5-2697 V2] compared in Windows, I ran my own test on a 64-bit build of Geekbench and scored in excess of 30,000 points—more than 25% faster than the leaked number.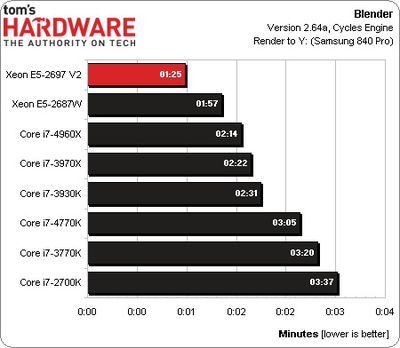 Strong performance in multi-threaded Blender 3D modeling benchmark
The full set of testing benchmarks pitted the high-end 12-core Ivy Bridge-EP Xeon processor against a variety of Sandy Bridge and other Ivy Bridge chips, as well as a Core i7-4770K Haswell chip, finding that the Xeon E5-2697 V2 generally topped the performance charts in multi-threaded tests but was beaten in many single-threaded tests by the faster chips with fewer cores.

Relatively poor performance in single-threaded iTunes benchmark
As noted, the benchmark scores for the Xeon E5-2697 V2 generated from these tests won't necessarily translate exactly to a Mac Pro running OS X Mavericks, but they do provide some confidence that the redesigned Mac Pro will indeed be a significant improvement over its predecessor for the most demanding multi-threaded tasks.