Apple is currently holding a sale on movie bundles in the U.S. iTunes Store, offering heavy discounts on collections of both SD and HD versions of films. The bundles include film collections of popular franchises such as the Lord of the Rings, Harry Potter, and Spider Man.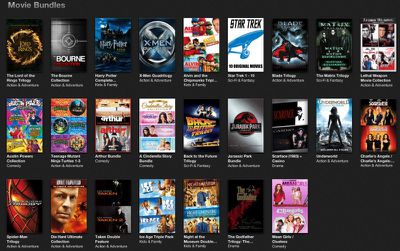 Last week, Apple launched movie support for iTunes in the Cloud in eight new countries, including Japan and Italy. The service was first launched for music in June 2011 in the United States, with movie and TV show support in March 2012.
Update: Pricing and availability on some of the bundles is changing rapidly, suggesting that some of the pricing deals may have been in error. The complete set of Harry Potter films was initially priced a $9.99, but is now carrying a $59.99 price tag. Similarly, the Lord of the Rings was originally also priced at $9.99 before briefly being removed from the promotion page and then returned with a $17.99 price tag.