iTunes in the Cloud for Movies Goes Live in Japan and 7 New European Countries
Apple today added movie support to its iTunes in the Cloud service in Japan and seven additional European countries, enabling customers in those countries to re-download content previously purchased from the iTunes Store. New support for Austria and Switzerland was noticed by iFun.de [Google translate], but the full list of new countries includes Austria, Estonia, Italy, Japan, Latvia, Lithuania, Slovenia, Switzerland.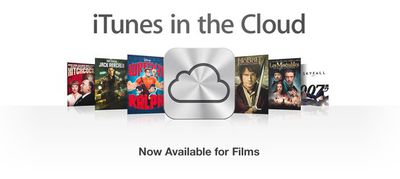 iTunes in the Cloud was first launched for music in June 2011 in the United States, with Apple adding movie and TV show support for U.S. users in March 2012. Movie coverage has been gradually expanded since that time, with the most recent addition prior to today coming back in February.
With today's expansion, there remains only a handful of countries where Apple offers movie content in the iTunes Store but not iTunes in the Cloud support for those films. That short list does, however, include several major markets for Apple such as Germany and Spain.