iPad 5 to Use Same Touch Panel Technology as iPad Mini to Reduce Size
Apple's suppliers are preparing the next-generation iPad for mass production and will reportedly use the same touch panel technology as the iPad mini in order to make reductions in weight and size, according to The Wall Street Journal.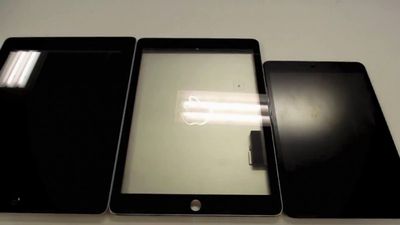 The same touch-panel technology that made the iPad mini thin and light will likely feature in the next iPad, which is currently being produced by Apple Inc.'s Asian suppliers, according to people with knowledge of the matter.

What many consumers generally call a "screen" consists of multiple layers, and the "touch panel" specifically refers to the layer equipped with touch sensors, between the liquid-crystal display and the outermost cover glass. The iPad mini, according to a teardown report by research firm IHS iSuppli, uses a film-based touch panel, which is thinner and lighter than the glass-based touch panel that the current full-size model uses. Following the iPad mini's success, Apple plans to use the film-based touch panel in its next regular-size iPad, the people said.
Earlier this month, a number of photos from a parts listing claimed to be of a genuine front panel and digitizer from the fifth-generation iPad, and followed the release of a video that also allegedly showed the front panel and back shell of the fifth-generation iPad for the first time.
Both postings appeared to show a full-sized iPad that was notably reduced in size when compared to Apple's current generation iPad, and would fall in line with this new report. A number other rumors and leaks of parts and cases dating back many months have similarly indicated that the next-generation iPad will indeed be significantly smaller and thinner than the current design.
Apple is expected to introduce the fifth-generation iPad as soon as next month, with an updated iPad mini rumored to be following fairly soon after.