iTunes Store Ranks First in Streaming Video Satisifaction
A customer satisfaction survey of streaming video services by analytics firm ForeSee has placed Apple's iTunes Store in first place with a score of 80, ahead of other popular video services such as HBO GO and Netflix, which both finished with a score of 79. The survey also revealed tendencies about individual usage, such as how often users make visits to premium video services and the number of minutes users spend on streaming services per visit.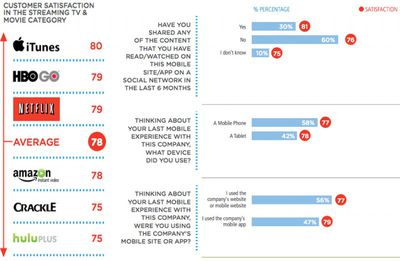 iTunes is the de facto experience when consumers are using Apple's iOS platform. The iTunes app comes pre-installed on iPhones and iPads. It is a significant market advantage that users do not have to elect to download the app. Also, it provides guidance to other content and media apps since the iTunes app's user experience has become the standard for how other apps look, feel, and behave. Millions of consumers then actively choose to engage with iTunes to download content.
Last year, ForeSee ranked Apple second in mobile shopping satisfaction behind Amazon. Apple originally started selling videos on the iTunes Store in October 2005, and expanded movie content to 42 new countries in December of last year, bringing the total number of countries with access to purchased and rental iTunes Store movie content to over 100.