Apple Instructs Chinese Users on Identification and Use of Genuine Apple Power Adapters
After two electric shock incidents involving the iPhone in China, Apple has added a special page [Google translation, via The Next Web] to its Chinese website informing consumers about the identification and use of genuine USB power adapters for the iPad and iPhone.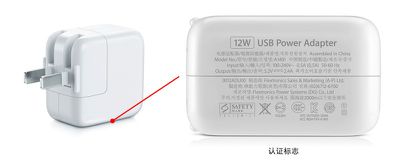 The page includes a message about Apple's continued dedication to consumer safety and testing. It also includes diagrams for identifying genuine power adapters for products that use the new Lightning connector and those that use the legacy 30-pin connector.
When you need to charge the iPhone or iPad, we recommend that you use the standard USB power adapter and USB cable. These adapters and cables are also available separately from Apple and Apple Authorized Resellers.
Last week, a Chinese man was left in a coma after receiving an electric shock while charging his iPhone 4, an incident which followed the death of a Chinese woman under similar circumstances. Both incidents apparently involved the use of unauthorized third-party adapters.