Apple Applies for Patent on Intelligent 'Power Management for Electronic Devices'
A newly published patent application from Apple describes a "power management for electronic devices" system, which detects the usage patterns of a mobile phone and estimates the required energy needed to run the phone between charges. The abstract of the patent application, No. US 2013/0191662 (via AppleInsider), describes the system as:
A method for modifying one or more characteristics of a mobile electronic device in order to save or reduce power consumption of the device.
Closer inspection of the document reveals that the system automatically turns certain hardware features of the mobile phone (such as Wi-Fi, location services or Bluetooth) off in order to try and increase the device's battery life.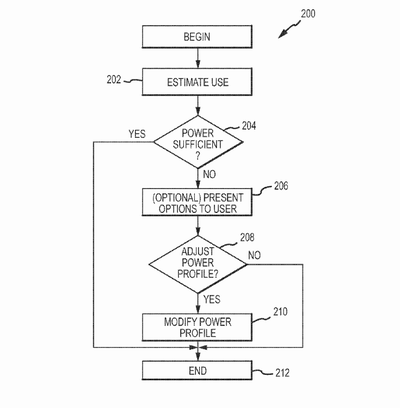 The patent application, which was first filed back in January 2012, lists Michael Ingrassia, a senior software engineer at Apple who has worked the iPod nano and iPod classic (including the Radio, iPod Out, and Voice Memos features on the iPod nano), and Jeffrey T. Lee as its inventors.
In making its case for the need addressed by the described invention, the document describes a situation all too familiar to many smartphone users:
A user may charge his or her device prior to leaving for work, and while at work may use a global positioning system (GPS) for turn-by-turn directions to attend a business meeting, watch one or more videos on the device, and make multiple phone calls, all without charging the device for a number of hours. In this case, the power source may be drained before the user has the chance to recharge the device and thus cease operating.
The system described by Apple remembers charging locations where a user would typically charge their device (such as their home or place of work) as well as typical device usage (the type of power source, typical charge time and typical travel time to and from locations) by using "an on-board GPS radio", then automatically builds a power management profile based on the user's usage patterns.


As always with Apple patents, the technology described here may not make it into a final product, but given the limitations on battery capacity imposed by the slim mobile devices in use today, it would certainly be welcomed by many people looking to extend the battery lives of their devices.