Redesigned Google Maps App with iPad Support and Explore Feature Hits the App Store
As announced last week, Google has begun rolling out a revamped version of its Maps app for iOS, adding support for the larger screen of the iPad, enhanced navigation features, and a new Explore feature.
Google Maps 2.0 for iOS includes both live traffic updates and incident reports that offer details on current traffic conditions. Unlike the Android version of the app, it does not include on-the-fly rerouting, but Google has said that it plans to add the feature in the future. The new version of Maps also offers indoor directions and maps for malls, airports, transit stations, and more.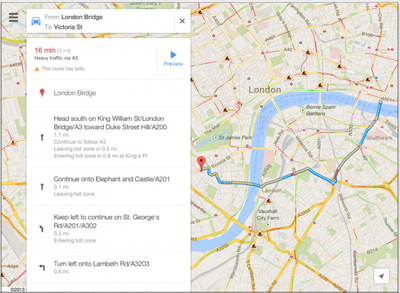 Explore, which was first introduced at Google I/O earlier this year, offers users a way to discover nearby businesses and restaurants. It incorporates Zagat ratings and deals through integration with Google Offers.


The old version of Google Maps has been removed from the App Store, and while the revamped version is available in several countries in Asia at the current point in time, it is not expected to be available in the U.S. until later. As noted by 9to5Mac, however, the app can be acquired immediately by deleting the old app and re-downloading it from iCloud.
Update: Google Maps can now be downloaded from the U.S. App Store.