Sprint Launches Less Expensive Unlimited Plans with Lifetime Service Guarantee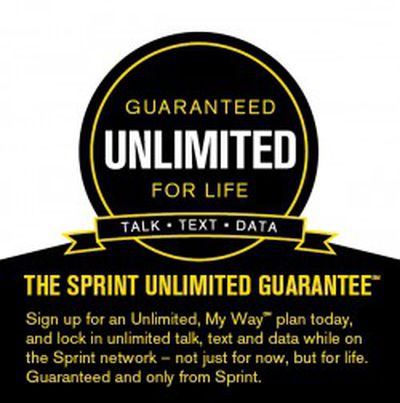 Sprint today announced new two new mobile plans, both of which come with a new Unlimited Guarantee, ensuring unlimited talk, text, and data on the Sprint Network for the life of the cellular line.
Sprint's guarantee applies to new and existing customers who choose to sign up for the "Unlimited, My Way" plan or the "My All-in" plan. The Unlimited, My Way plan offers customers unlimited usage for $80 per month for a single line, though additional lines (up to 10) can be added with a tiered fee that decreases based on how many lines are added. For example, a single phone with unlimited everything costs $80 under the new plan, but four phones will cost $260, or $65 each.
- Customers first select the number of lines; all lines come with unlimited talk to any wireline or mobile phone and text.

- Customers then choose their data for each line: $30/month for unlimited data on smartphones or $10/month for unlimited data on basic phones. Additional options include $20 for 1GB of data on smartphones or basic phone users can choose not to add data to their account.

- Customers also have the choice to activate mobile hotspot functionality on their smartphone for $10 per month for 1GB of data on the Sprint network.
Sprint's My All-in plan offers unlimited talk, text, and data plus 5GB of mobile hotspot usage for $110. With both plans, customers are guaranteed to have access to unlimited talk, text, and data for the lifetime of the line.
Previously, Sprint's individual unlimited talk, text, and data plan was priced at $109.99, so the change marks a significant discount. The pricing shift comes just a day after T-Mobile announced its new "Jump" phone upgrade program, which allows T-Mobile customers to upgrade their phones as often as twice per year.
According to Sprint, its customers save $240 per year over Verizon customers, and $120 per year over AT&T and T-Mobile customers. Sprint's new plans will be available beginning on July 12, and its new guarantee will go into effect on the same day.