Apple Seeds iOS 7 Beta 3 to Developers
Exactly two weeks after releasing the second beta of iOS 7 to developers, Apple has just pushed out a third beta version for testing. The update is arriving as both an over-the-air update to existing beta testers and through the iOS Dev Center.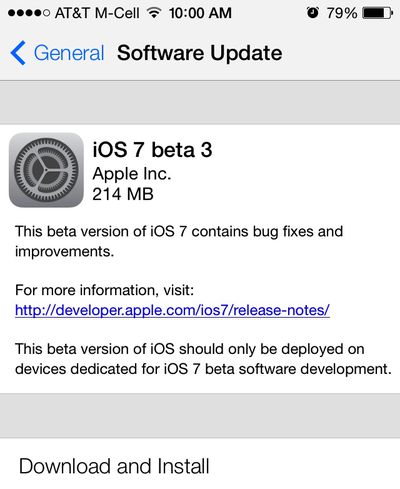 The new beta arrives as build 11A4414e, up from the second beta at build 11A4400f. Apple has also released a third developer preview of Xcode 5.
A report from late last month had indicated that the third beta was scheduled to arrive today, although many have regarded the two-week interval as an obvious prediction given Apple's past release history. Apple typically runs on 2-3 week intervals for releasing developer builds of its major iOS operating system versions.
iOS 7 is scheduled for release in the fall of this year, with updates to Apple's iPhone, iPad, and iPad mini all expected around the same time. If past history is any indication, iOS 7 should be made available to the public just a few days before the launch of the next-generation iPhone.
Direct links for paid members of Apple's iOS developer program:
- iPad (4th generation Model A1458)
- iPad (4th generation Model A1459)
- iPad (4th generation Model A1460)
- iPad mini (Model A1432)
- iPad mini (Model A1454)
- iPad mini (Model A1455)
- iPad Wi-Fi (3rd generation)
- iPad Wi-Fi + Cellular (model for ATT)
- iPad Wi-Fi + Cellular (model for Verizon)
- iPad 2 Wi-Fi (Rev A)
- iPad 2 Wi-Fi
- iPad 2 Wi-Fi + 3G (GSM)
- iPad 2 Wi-Fi + 3G (CDMA)
- iPhone 5 (Model A1428)
- iPhone 5 (Model A1429)
- iPhone 4S
- iPhone 4 (GSM Rev A)
- iPhone 4 (GSM)
- iPhone 4 (CDMA)
- iPod touch (5th generation)