Next-Generation 13-Inch MacBook Pro Benchmarked with Modest Performance Gains
As we noted last week, Apple's Worldwide Developers Conference came and went without seeing the introduction of updated MacBook Pro models, to the surprise and disappointment of many observers.
But just like with Apple's upcoming Mac Pro, benchmarks for an updated MacBook Pro have begun appearing in the Geekbench results database. The result was posted two days ago, and was noticed by pikeralpha (via forum member Sneakz) yesterday.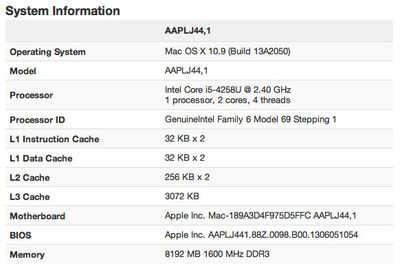 As with the Mac Pro, this MacBook Pro appears under a code name of "AAPLJ44,1" and appears to correspond to a 13" MacBook Pro, and while it is not exactly clear whether it refers to a Retina or non-Retina model, the two machines would perform roughly equally when using the same processor. Apple has, however, been rumored to be phasing out the non-Retina models, and if true this result would seem to point to a new Haswell-based Retina MacBook Pro.
The machine shown in the benchmark results is running a dual-core Intel Core i5-4258U processor running at 2.4 GHz with 8 GB of RAM and a Boot ROM dated June 5. Like the Mac Pro, this MacBook Pro is running a special build of OS X Mavericks, termed Build 13A2050.
Primate Labs' John Poole has put together a graphic showing how the Geekbench performance of this new machine compares to that of other recent 13-inch MacBook Pro models, revealing a 5-8% boost in performance compared to the previous low-end models while running at a lower clock speed.


As seen in the MacBook Air released last week, one of the major benefits to Intel's new Haswell platform is reduced energy consumption, with Apple choosing to offer only a modest boost in performance while bringing massive increases in battery life that see the new 13-inch MacBook Air reaching 12 hours or more of battery life.
It has been unclear exactly how Apple will prioritize battery life and performance in the MacBook Pro, but it appears that the company may be pursuing a similar strategy to that seen in the MacBook Air, boosting performance only slightly while pushing much of the energy savings into increased battery life.
The 13-inch MacBook Pro currently offers 7 hours of battery life, and while Apple may not be able to duplicate the 80% increase in battery life seen with the MacBook Air's switch to Haswell due to other power-hungry components such as the MacBook Pro's Retina display, the company may still be able to offer substantial battery life improvements in its new machines.