Apple Testing Expanded iPhone Repair Options Through Authorized Service Providers in Canada
Apple has launched an iPhone repair pilot program for Apple Certified Service Providers in Canada that will allow certain certified centers to offer iPhone repairs after store technicians have completed Apple-required iOS Certification.
According to a tipster, the third party service sites will be able to offer repairs for the battery, camera, speaker, and more, after the program launches in the next few weeks. In addition to passing an iOS Qualification exam, Service Provider technicians have also been required to attend several training sessions to learn how to disassemble the iPhone.
While the program is currently limited to Canada, it seems reasonable to suspect that it may roll out to other countries in the future should the test run prove successful.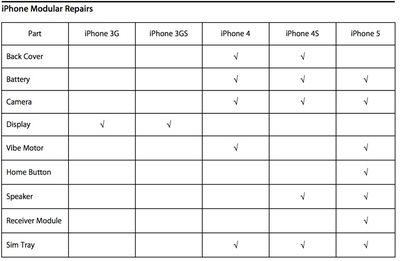 Documents given out to technicians suggest that Apple is aiming to provide a quality alternate repair option for its customers in Canada, while cutting down on unauthorized Apple repairs.
Program Overview – Goals
1. Provide APR with authorization to provide iPhone repair service to walk in customers as alternate channel
2. Provide same service level for iPhone as our Apple Retail Stores
3. Reduce proliferation of unauthorized repair centres and third party parts
Apple has furnished its Apple Certified Service Providers with a detailed set of rules and requirements that must be met, including troubleshooting all cases and providing same day service with a maximum of six hours in turn around time for devices with a warranty.
Out of warranty requests follow similar rules, with a 12-hour deadline for potential repairs. While the documentation estimates that the majority of repairs will be replacements, it requires each repair location to hit a Same Unit Repair rate of 10% or higher.
In early June, Apple began offering in-house iPhone 5 display replacements in an effort to cut down on repair costs. The company is also planning to offer additional same device repairs later this year, which could save more than $1 billion per year.
Apple's move to allow Apple Certified Service Providers to offer iPhone repairs is likely part of the same initiative, designed to cut down on overall repair costs while providing greater convenience to customers who might otherwise seek out unauthorized repairs. Even in the United States, few Certified Repair centers are able to offer iPhone service at this time, which could change as Apple continues to expand its repair options.
Update: According to a tipster, Apple's Canadian test run is an expansion of a beta test that began in the United States last year. Approximately 20 Apple Authorized Service Providers are able to execute iPhone repairs and offer unit swaps in the U.S.