New Video May Show iOS 7 Running on an iPad
Apple has yet to release iOS 7 for the iPad, which has led to speculation about what the operating system will look like on a larger screen.
Over the weekend, photos from the iOS 7 simulator in Xcode 5 surfaced, demonstrating how several stock iOS apps might look on Apple's tablet, and now a tipster has directed us to Russia-based YouTube user Rozetked, who has released a video of what he claims is iOS 7 "alpha" running on an iPad.
Rozetked does not explain where the software came from nor how it was installed on the tablet, so there is no proof that the video depicts a bona fide version of iOS 7 running on the iPad rather than an elaborately crafted rendering.
Though the video's legitimacy is questionable, it does offer a clearer picture of what iOS 7 might look like when installed on an iPad. Both the Notification Center and the Control Center appear in appropriate portions to the screen size and the Control Center lacks the Flashlight setting that was found in the simulated screenshots, instead offering iPad-specific options that include just AirDrop and AirPlay.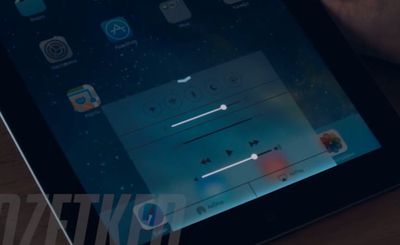 iOS 7 Control Center as displayed in the video
In comparison, the iPhone Control Center offers a Flashlight along with quick access to the Clock, the Calculator, and the Camera.
In addition to displaying the Notification Center and the Control Center options on the iPad, the video also offers a look at several apps, including Music and Videos. Both folder functionality and 2x app mode are demonstrated as well, and several stock app icons are identical to the iPhone versions.
It is unclear when Apple plans to release iOS 7 on the iPad for developers, having chosen to instead focus its attention on the iPhone version of the operating system for the time being.
(Thanks, Gary!)