Apple Allowed Developers to Test a Prerelease Mac Pro Hidden Inside a Metal Box
Before Phil Schiller gave the world a sneak peek of the new Mac Pro at WWDC this week, Apple allowed select developers to come to its Cupertino headquarters to test out their software on preproduction hardware.
AppleInsider spoke with employees of The Foundry, a firm that develops high end rendering software used on Hollywood productions.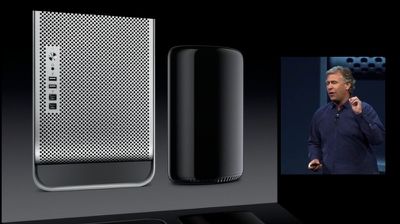 The Foundry shared with AppleInsider the story of how its team worked with the new Mac Pro in a room at Apple HQ known as the "Evil Lab" ahead of the desktop's unveiling. During the tests, the Mac Pro was entirely concealed in a giant steel cabinet, keeping its new design a mystery to The Foundry and Pixar.

"We were essentially doing a blind tasting of the machine," said Jack Greasley, MARI product manager at The Foundry. "All we could see was the monitor, and the Mac Pro was encased in a giant metal filing cabinet on wheels. Experiencing the machine in this way was actually really cool, because I can tell you that the speed and power of this machine really stands up. Mari running on this machine out of the box is the fastest I have ever seen it run."
Greasley said "some real innovation and thought has gone into what users want and need" with the new Mac Pro, and he doesn't "think pro users should be concerned" about the new machine.
Representatives from The Foundry and Pixar participated in a lunchtime session at WWDC this week, demonstrating the company's MARI software running on the new Mac Pro. The company managed to get a working copy of MARI ported to the Mac in just under a week and convinced Apple executives to give a significant block of time at WWDC to demo the software and the new machine.
The Mac Pro is expected to be released later this year.