Alternate Icons on iOS 7 Website Likely Old Marketing Material
After Apple debuted iOS 7 on Monday, the website for the new operating system displayed a set of icons that were different from the icons found in the current version of iOS 7.
Apple has since updated the website, but the Weather, Passport, and Reminders apps looked notably different, with the Passport and Reminders apps displaying different colors and the Weather app displaying a temperature rather than the current cloud and sun design.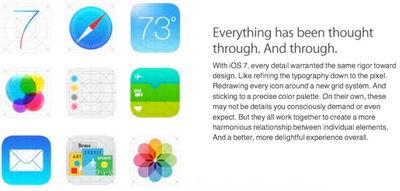 "Old" iOS 7 icons
While it has been
suggested
that the icons represent future design changes that Apple is planning for iOS 7, it is more likely that the icons are previous iOS 7 design iterations. Because the icons were present on the website when it went public on Monday, it is reasonable to assume that the icons were the result of outdated and overlooked marketing material rather than an unintentional leak of new content.
The "old" weather icon, for example, forgoes the current sun and cloud icon of iOS 7 for a simple number, "73." That is the same temperature icon that is used for the iOS 6 version of Weather, so it is probable that the text-only 73 was an older, simpler design iteration taken from the current iOS 6 icon. There is no indication that the icon represents a live temperature reading.

Current iOS 7 icons
Passbook, too, looked notably different in the older version, with a confusing color scheme that heavily featured blues and greens. Reminders was updated as well, swapping out gray for green and yellow for orange, both of which are bolder colors. Arguably, the newer versions of the apps feature crisper designs and more prominent, easy to distinguish colors.
Though it is unlikely that the icons represent upcoming designs, it is likely that iOS 7 will see several graphical updates before it is released to the public this fall. As noted yesterday by The Next Web, the current design is a "work in progress."