Apple's Google Now Competitor 'Today' Features Traffic Information on Frequently Visited Locations
In iOS 7, Apple has included a new Notification Center feature called Today, which the company says is designed to provide users with the day's events at a glance, including information like birthdays, weather details, and traffic reports.
We've unearthed additional details about how Today works, including how Apple gathers information to provide traffic details on frequently traveled routes. In the location settings section of iOS 7, there's a new feature called "Frequent Locations," which Apple says "suggests locations of interest based on historical location usage."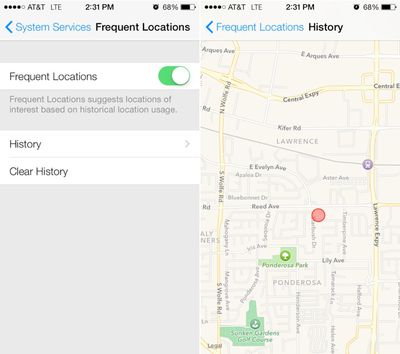 Frequent Locations stores information about locations that have been visited multiple times and it appears to pair with another "Traffic" setting to provide commute details on locations a user visits on a regular basis, as seen in the screenshot below. It is unclear, however, if these traffic notifications appear based on the time of day. For example, they could appear only during a morning or evening commute to work.


Users have found other interesting items in the 'Today' panel, including a suggestion of an early bedtime for an upcoming busy day.


It appears that location settings in iOS 7 have a wide range of capabilities, which could see the Notification Center including even more detailed information as iOS 7 evolves. In a report earlier today, The Next Web estimated that iOS 7 would see a number of design changes before being released this fall. We have additional details on iOS 7, including major changes, small updates, and new APIs.
(Thanks Olivier and John!)