Apple Claims 20% of U.S. E-Book Market, Double Previous Estimates
Publishers Weekly reports (via paidContent) that testimony from Apple executive Keith Moerer in the ongoing e-book price fixing trial has revealed that Apple holds approximately 20% of the e-book market in the United States, roughly double many of the previous estimates made by third parties.
The government also focused on the relative success of the iBookstore asking Moerer what marketshare the store held in the months after launch (about 20% Moerer said) and what its marketshare was after several years of operation and adding Random House in 2011 (also about 20%).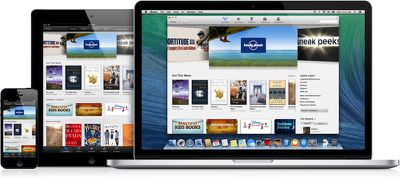 Beyond the market share claim, Moerer pointed to strong growth of the iBookstore in vigorously challenging the U.S. government's assertion that Apple's e-book effort has been a failure.
The government called the iBookstore "a failure," and charged that "Apple pricing was unfair to consumers," and that "Apple sold fewer books because of the higher price caps." Moerer challenged that characterization, "I disagree. E-book sales grew 100% last year at the iBookstore and it had over 100 million customers." The government countered that "when you drop prices you sell more books," and Moerer said, "sometimes, yes."

But the government bluntly said, "Apple forgot to focus on customers that's why the iBookstore is a failure." Moerer: "that's not true."
Testimony in the case is now in its second week, with Apple senior vice president for Internet Software and Services Eddy Cue scheduled to take the stand tomorrow.