Tablet Market Projected to Surpass Notebooks in 2013, Total PC Market in 2015
Research firm IDC today released new projections showing that the firm expects tablet shipments to surpass shipments of notebook computers in 2013, marking a significant shift in how consumers approach portable devices. IDC projects that the strong growth of tablets will continue into the future, allowing tablets to overtake the entire PC market in 2015.
"What started as a sign of tough economic times has quickly shifted to a change in the global computing paradigm with mobile being the primary benefactor," said Ryan Reith, Program Manager for IDC's Mobility Trackers. "Tablets surpassing portables in 2013, and total PCs in 2015, marks a significant change in consumer attitudes about compute devices and the applications and ecosystems that power them. IDC continues to believe that PCs will have an important role in this new era of computing, especially among business users. But for many consumers, a tablet is a simple and elegant solution for core use cases that were previously addressed by the PC."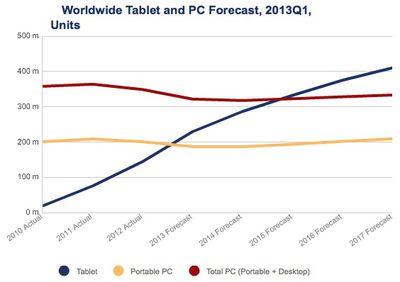 While Apple has remade the tablet market with the iPad, IDC notes that a proliferation of low-cost Android tablets is driving overall growth at this point. Apple's efforts have also shown that tablets are viable tools for the education market, opening up significant possibilities for sales growth.
"Apple's success in the education market has proven that tablets can be used as more than just a content consumption or gaming device," said Jitesh Ubrani, Research Analyst for the Worldwide Quarterly Tablet Tracker. "These devices are learning companions, and as tablet prices continue to drop, the dream of having a PC for every child gets replaced with the reality that we can actually provide a tablet for every child."
The success of tablets is undoubtedly coming as no surprise to Apple, as its executives have said a number of times over the past several years that they expect the tablet market to exceed that of PCs.