Philips 'Hue' Receives Major Update With Geofencing, Visual Alerts, and More
Late last year, Philips launched its "Hue" lighting system, offering sets of wireless-enabled LED lightbulbs that allow users to remotely control their lighting, including adjusting to a rainbow of colors, from an iOS app. Hue has been exclusively sold through Apple's online and retail stores, and Philips has been working hard to both bring more features to the system and to open it up to developers to build even more functionality.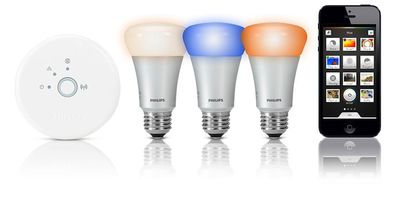 Philips today announced the "next phase" of Hue with a major update bringing a number of new features. Perhaps most interesting is integration with If This Then That (IFTTT) protocols to allow Hue to provide visual alerts for a wide variety of situations.
The next generation of the Hue app (version 1.1) can now hook up to your essential internet services via your smartphone or tablet, meaning your bulbs can act as indicators for weather, stock quotes, sports scores, email, social media and more. They can be set to behave in any way you choose. For example, to change color if it's going to rain; to blink if you receive an urgent email, Facebook message from someone special; illuminate gradually as the sun sets; or even flash in your sports team's colors when they score.
The new Version 1.1 of Hue also adds geofencing, automatically turning lights on as the user approaches their home and turning them off as they leave, as well as other customizable options. The update also brings recurring schedules, allowing users to simply set a schedule once and have it repeat each day.
Philips is also announcing an expansion in availability for its Hue lighting system, with a number of new outlets including Apple resellers and Amazon.com now offering starter packs and individual bulbs.
The Hue starter pack ($199.95) with core hardware and three bulbs and single bulbs ($59.95) are available through Apple. The Philips Hue universal app for iOS devices is a free download from the App Store. [Direct Link]