Foxconn Chief Reportedly Making Preparations for Apple Television Set [Updated]
China Daily briefly notes (via How To Arena) that Foxconn chairman Terry Gou directly addressed the topic of Apple's rumored television set yesterday at a news conference in Shanghai marking the start of construction on a new company headquarters facility.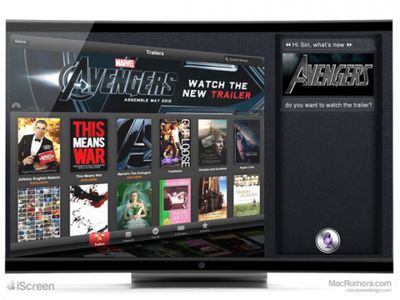 Apple "iScreen" concept by CiccareseDesign
According to the report, Gou claimed that Foxconn is making preparations for Apple's television set, with its recent
partnership with Sharp
to push forward LCD display technology being one of those moves.
Gou said Foxconn is making preparations for iTV, Apple Inc's rumored upcoming high-definition television, although development or manufacturing has yet to begin.

iTV reportedly features an aluminum construction, Siri, and FaceTime video calling

Foxconn's recent 50-50 joint venture factory with Sharp in Japan is one of the preparations made for the new device, Gou added.
Rumors of an Apple television set have been picking up steam since Steve Jobs was quoted in his authorized biography as noting that he had "finally cracked" how to create "the simplest user interface you could imagine" for a television set, presumably referring to Siri voice control.
Update: Foxconn has issued a statement to The Next Web officially denying that Gou made any such comments.
In remarks at a media briefing during the groundbreaking of Foxconn's new China headquarters in Shanghai on May 10, Terry Gou, Foxconn's Chief Executive Officer, made it very clear that he would neither confirm nor speculate about Foxconn's involvement in the production of any product for any customer because Foxconn's policy is not to comment on any customers or their products.

At no time did he confirm that Foxconn was in development or manufacturing stages for any product for any of its customers. He did say that Foxconn is always prepared to meet the manufacturing needs of customers should they determine that they wish to work with Foxconn in the production of any of their products. Any reports that Foxconn confirmed that it is preparing to produce a specific product for any customer are not accurate.