Adobe is offering customers a 20% spring discount on some of its editing software (via AppleInsider), dropping the price of Lightroom 4, Photoshop Elements 11 and Premiere Elements 11 by $30.
Lightroom 4, originally priced at $149, is designed for photographers, offering up an array of powerful image adjustment tools. Though Adobe recently launched a beta version of Lightroom 5, the updated software will not be released until later this year.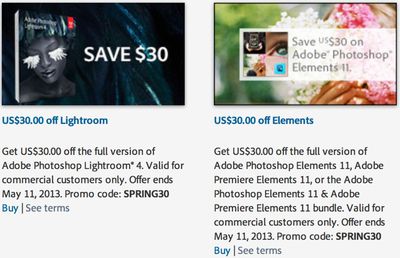 Adobe's Photoshop Elements 11 provides several tools from the more robust Photoshop CS6 at a lower cost, and Premiere Elements 11 is designed for video editing. Both Photoshop Elements and Premiere Elements are priced at $99, though a bundle of the two is also available for $149. The $30 discount applies to the bundle as well as the individual titles.
The discounted software can be purchased directly from Adobe using the code "SPRING30," until May 11 when the promotion ends.