Tim Cook Coffee Meeting Charity Auction Hits $100,000
Charity auction site CharityBuzz kicked off a charity auction for a cup of coffee with Tim Cook this morning and the listing, which has an estimated value of $50,000, went from $5,250 to $100,000 in a matter of hours.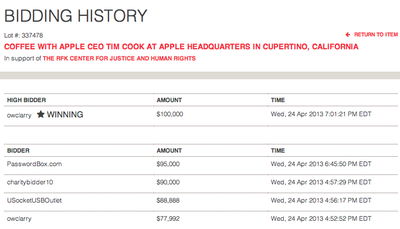 Here are our best guesses of the identities of the top contenders vying to win a coffee date with Cook:
owclarry - Larry O'Connor, the founder and CEO of Other World Computing, a company that provides computer upgrade products and services for Macs. "We would love the opportunity to sit down with Tim and maybe get some insights on where the future lies in his eyes," he told MacRumors.
rory.oneill3 (now charitybidder10) - Rory O'Neill, Vice President of Product & Channel Marketing at BlackBerry.
PasswordBox.com - PasswordBox is a secure password management app which is currently restricted to VIP members only and is available on a wait list basis. Its CEO and co-founder is Daniel Robichaud.
USocketUSBOutlet - U-Socket is an AC receptacle with two built-in USB ports, produced by FastMac, so this bidder is likely someone from the company.
stephen.gill.777 - Stephen Gill, an online marketing executive and co-founder of Leadnomics.
BGStucki - Brian Stucki, Owner of Macminicolo, a Mac Mini colocation service that stores users Mac minis in data centers for use as servers.
At the moment, Other World Computing founder Larry O'Connor, who has been actively bidding throughout the day has the winning bid. Prolific bidder O'Neill previously had the username rory.oneill3, which has now been changed to charitybidder10.
While we have confirmed that Stucki and O'Connor are the bidders behind their usernames, the remaining guesses are based on usernames that match up with known people in tech.
The auction, which ends on May 14, will allow two attendees to spend 30–60 minutes with Cook at Apple Headquarters in Cupertino. Proceeds will benefit the RFK Center for Justice & Human Rights.
Update: We have received an email alleging that the Rory O'Neill bidding in the auction is not affiliated with BlackBerry.
Update 2: The Charitybuzz website appears to utilize Facebook logins (thanks, Johan!) which means some usernames correlate to Facebook usernames. That suggests Rory O'Neill is not the same Rory O'Neill who works at BlackBerry. Bids have now reached $155k, with Sebastijian Bauman in the lead.