Jailbreak Hack Puts 'Chat Heads' on iPhone the Way Facebook Intended
The Verge reports on a new jailbreak hack for the iPhone that puts Facebook's new 'Chat Heads' feature above all other content on the device, similar to how Facebook Home works on Android.
On Android, Facebook's Chat Heads float above all other content so users can quickly jump in and out of conversations while they continue to use their phone for other tasks. On the iPhone, Chat Heads are normally only active when users are actually using the Facebook app.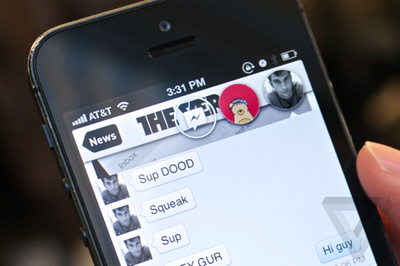 The trick, according to [developer Adam Bell], was isolating the Facebook app from the Chat Heads living inside it. Chat Heads inhabit a separate layer inside the Facebook app, so it was just a matter of finding that layer and making the rest of the app transparent. "The hardest part was getting this all to render on top of everything else," Bell says, which means Facebook is always running on your phone. Apparently, Bell's tweak doesn't take much of a toll on battery life. "It doesn't seem very resource intensive," he says. "Only when you move the Chat Head is it actually doing anything."
The hack will be released on jailbreak app store Cydia and
Github
in the next few days.
Facebook executives were asked at a recent conference if they had spoken with Apple about bringing the full Chat Heads experience to the iPhone, but they demurred.