Facebook in Talks With Apple to Bring 'Home' to iPhone
Facebook is in talks with Apple about creating a version of its "Home" software for the iPhone, reports Bloomberg.
Originally released for Android devices earlier this month, Facebook Home puts Facebook at the front and center of the phone, displaying photos on the lock screen and transforming the chat experience with overlays called Chat Heads.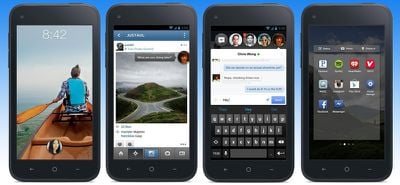 According to Adam Mosseri, the director of product at Menlo Park, talks are ongoing and no plans have been finalized. "We've shown them what we've built and we're just in an ongoing conversation," he said.
At a question and answer session after the unveiling of the new software Facebook CEO Mark Zuckerberg expressed interest in bringing Home to iOS, but mentioned that an iOS version would be harder to create as Facebook would have to work with Apple. Mosseri says that the Home software would be altered to suit Apple's preferences.

"It may or may not be Home," he said. "We could also just bring some of the design values to the iOS app. That might be how it ends up. Or we could build just the lock screen. Maybe then it's not called Home, it's called something else."
Facebook and Apple have had a troubled relationship in the past, being unable to come to a suitable agreement over Facebook integration in the now-defunct iTunes social networking feature Ping, but have worked together on Facebook integration in iOS 6 and Mountain Lion.
In addition to speaking with Apple, Facebook is also courting Microsoft. Both Apple and Microsoft representatives declined to comment on the on the situation.
Update: The Next Web disputes Bloomberg's report, claiming that no discussions are underway.
According to a source inside Facebook familiar with the discussions, the social networking company is not in talks with Apple or Microsoft, contrary to what Bloomberg has reported earlier. We've been told that while the company has good relationships with both Apple and Microsoft, right now no discussions have taken place to bring Home to those platforms.
It is, however, currently unclear how The Next Web's claim should be taken, given that Bloomberg's report is based on direct quotes from a named Facebook executive.