Apple Continues to Gain Smartphone Market Share in U.S.
comScore today released the results of its monthly rolling survey of U.S. mobile phone users for the December-February period, revealing that Apple's smartphone market share rose 3.9 points from November to February going from 35% of total U.S. smartphone platform and hardware sales to 38.9%. Last month's report demonstrated similar growth for Apple.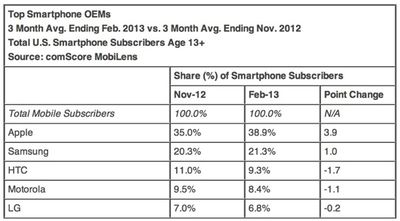 Samsung was the hardware manufacturer with the second largest share of the market at 21.3%, up from 20.3%. HTC, Motorola, and LG all experienced slight drops in market share.
Google's Android is still ranked as the top smartphone platform with 51.7% of smartphone platform share, though it experienced a significant drop from 53.7% in November, which was absorbed by Apple.


Apple's share increased 3.9 points to 38.9%, while Blackberry came in at 5.4% (down from 7.3%) and Microsoft experienced a slight jump from 3% in November to 3.2% in February. Collectively, Apple and Google control over 90 percent of the smartphone market, up from 87% last month.
comScore's data tracks installed user base rather than new handset sales, which means it is more reflective of real-world usage but slower to respond to shifting market trends than some other studies.