Apple has announced a new UK retail store in Leeds opening this Thursday, while also posting job ads in Germany for a store in Düsseldorf [Google translation] and a second store in Munich [Google translation]. Apple typically advertises for staff 6-9 months before a store opens, suggesting that the German stores could open late this year.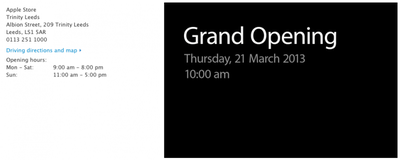 The unusual Thursday opening for the new store in Leeds coincides with the grand opening of the Trinity Leeds shopping center where the store is located.
Leeds, situated in the north of England, is Britain's third-largest city (after London and Birmingham), making it surprising that Apple has waited this long. Munich is coincidentally Germany's third-ranking city (behind Berlin and Hamburg), and was rated Germany's most liveable city by Monocle magazine. Düsseldorf is best known as an international business hub, playing host to around 20% of the world's major trade fairs.
Apple currently has over 400 stores worldwide, with global sales exceeding $20 billion in fiscal 2012. Apple has long held the top spot in revenue per square foot among top retail chains, with the most recent estimates for Apple topping $6000 per square foot, double that of Tiffany & Co.