Apple Again Tops U.S. Retail Chains in Sales at $6000 per Square Foot
Fortune points to a new report from research firm Retail Sails, which once again ranks Apple as the U.S. retail store chain with the highest sales per square foot. Apple's sales productivity is calculated at over $6000 per square foot, more than double that of second-place Tiffany & Co.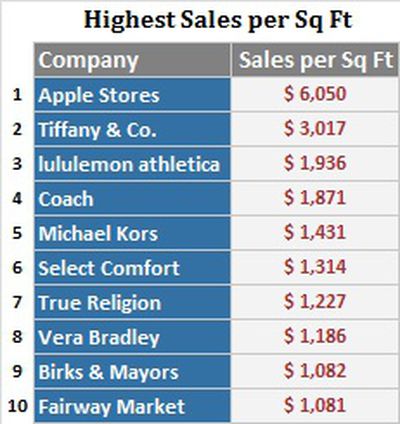 Apple also topped the list last year, with this year's 7.5% growth in sales per square foot ranking second among the top five companies to lululemon's 11.8% growth. Apple's retail store sales growth has, however, slowed considerably from Retail Sails' 2011 estimate of 49.1% growth as Apple has in some cases been transitioning to larger store sizes and expanded iPhone and iPad distribution has siphoned some demand from Apple's own retail stores.