Samsung and Apple Continue to Dominate Smartphone Market, But iOS Market Share Falls
Gartner's quarterly Market Share Analysis: Mobile Phones, Worldwide report shows that Samsung and Apple continue to dominate the smartphone market, with more than 52% of the market between them, but that Android's market share grew dramatically year-on-year while iOS saw a decline.
Samsung's Q4 2012 smartphone sales totalled 64.5 million handsets, up 85.3% on the previous year, while Apple's sales reached 43.5 million, a 22.6% increase. However, with featurephones included in the picture, Apple lays in third place behind Samsung and Nokia, with a 9.2% market share.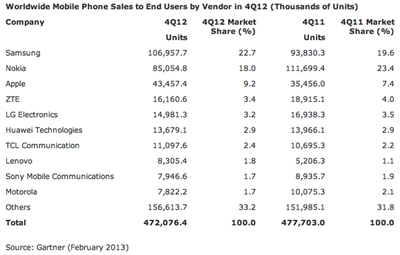 The dominance of Android meant that overall iOS market share fell from 23.6% in Q4 2011 to 20.9% a year later. Android increased its market share in the same period from 51.3% to a commanding 69.7%. The bulk of this growth was at the expense of Symbian and RIM, but some of it was from iOS.


The figures are likely to fuel debate about Apple's pace of innovation, with iOS having changed far less dramatically than Android since the launch of each platform. While the Android platform is split across a range of manufacturers, giving it the benefit of being marketed by multiple companies, Samsung alone is responsible for 42.5% of Android sales.

With Samsung commanding over 42.5 percent of the Android market globally, and the next vendor at just 6 percent share, the Android brand is being overshadowed by Samsung's brand with the Galaxy name nearly a synonym for Android phones in consumers' mind share.
The report suggests that Apple's continued success may be more due to the halo effect of the brand, rather than the strength of the iOS platform itself.

The success of Apple and Samsung is based on the strength of their brands as much as their actual products. Their direct competitors, including those with comparable products, struggle to achieve the same brand appreciation among consumers, who, in a tough economic environment, go for cheaper products over brand.
Total worldwide mobile phone sales last year fell 1.7% to 1.75 billion, with the economy undoubtedly leading people to delay upgrades.