Apple Reportedly Preparing to Announce Larger Dividend or Stock Buyback
Quartz reports that Apple is moving closer to announcing a plan to return additional value to shareholders, likely acting "this spring" to either increase its dividend or repurchase additional stock from investors. The move comes amid increased public scrutiny of Apple's plans for its cash as vocal hedge fund manager David Einhorn has been pressing the company to return more money to investors.
Apple's zeroing in on a dividend or buyback was in the works before Einhorn made his complaints public in February, although some of the sources say Apple increased the size of its plan after Einhorn's comments. And although Apple CEO Tim Cook publicly called Einhorn's lawsuit a "silly sideshow," the company found his idea of preferred shares "interesting," sources said. If it decides against a share buyback, Apple could either raise its existing dividend, which the company started paying this year, or issue a special dividend.
Apple's existing plan announced a year ago involves a quarterly $2.65 per share dividend and a $10 billion stock buyback program intended to offset the issuance of new shares for employee compensation. That plan was projected to cost Apple $45 billion over three years, but the company's cash holdings continue to grow.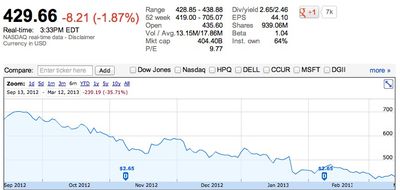 Just last week, Warren Buffett suggested that a stock buyback would offer the biggest impact for Apple given the fall in the company's stock price from a high of over $700 last September to $430 today. As long as Apple believes that its stock is undervalued at current prices, Buffett argues that if the company can "buy dollar bills for 80 cents, it's a very good thing to do."
Quartz's report suggests that an announcement regarding additional dividends or stock buybacks could come alongside a product launch, although Apple's plans for any potential product-focused events over the next few months remain murky. Apple would also likely prefer to separate any financial discussions from a product launch, giving full focus to the new products while scheduling a separate conference call focused on investors and analysts to discuss its cash plans as it did when it announced the current program last year.