Warren Buffett Says Apple Should Buy Back Stock, Ignore Einhorn's Calls for Preferred Stock
Barron's reports on a couple of Apple-related comments made by Berkshire Hathaway chairman Warren Buffett during a three-hour appearance on CNBC's Squawk Box show this morning. Buffett, known as America's most famous investor, suggests that Apple ignore all of the recent controversy surrounding a recent proposal from Greenlight Capital's David Einhorn to issue new dividend-paying preferred stock and instead simply continue focusing on creating value for the company's existing stock.
I would ignore him. I would run the business in such a manner as to create the most value over the next five to ten years. You can't run a business to push the stock price up on a daily basis. Berkshire has gone down 50% four times in its history. When that happens, if you've got money you buy it. You just keep working on building the value. I heard from people each time [Berkshire shares went down], saying why don't you do this or that.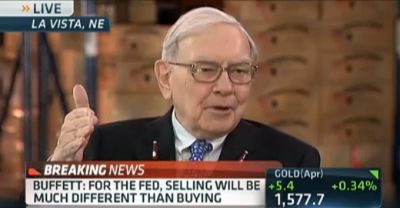 Buffett suggests that increasing Apple's stock buyback would be the most prudent use of the company's cash and notes that he had previously discussed the possibility with Steve Jobs.
I don't own any Apple and I haven't, though I did talk with Steve Jobs a few years ago about what they might do with the cash. [...]

When Steve called me, I said, Is your stock cheap? He said, yes. I said, Do you have more cash than you need? He said, a little. [laughs] I said, then buy back your stock. He didn't. Now, when our stock went from $90,000 to $40,000 to $45,000, I wrote about, we wanted to buy the stock. We didn't quite manage to. But if you could buy dollar bills for 80 cents, it's a very good thing to do.
Apple last year initiated a relatively small share repurchase program primarily designed to offset the issuance of new stock as employee compensation. The program was authorized to buy back approximately $10 billion in stock over three years and accompanied a dividend program to distribute cash back to investors.
But with Apple's share price having moved from approximately $600 at the time of the program's announcement to a peak of $700 and now back down to roughly $425, many are calling for Apple to accelerate its share repurchasing plans while the stock is at its lowest levels in 15 months.