'HiddenApps' Hides Stock Apps, iAds and More on Non-Jailbroken iOS Devices [Update: Removed]
An app that hides the standard apps on the iPhone like Stocks or Newsstand has evaded Apple's App Store approval process.
'HiddenApps', a free download on the App Store, lets users hide Apple's stock applications, disable iAds, and access the hidden Field Test mode, according to iDownloadBlog. It is likely that the app will be removed from the App Store very quickly, as other apps that have broken App Store rules have disappeared quite quickly in the past.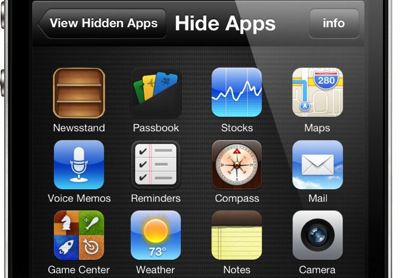 HiddenApps is available for all non-jailbroken iOS devices.

iTunes release notes cleverly bill it as "a simple and easy app that shows you tips and tricks about your iDevice," but the developer, of course, mentions at his web site the iAd and app hiding features.

Hiding stock apps normally requires a jailbroken device, so this program should come in handy for all non-jailbroken people other there.

Better hurry up, though, and download HiddenApps while you can because I'd bet my shirt that it won't be available on the App Store for much time.
HiddenApps
is a
free download
from the App Store, while AppAdvice
has an explanation
of how to actually use the app. [
Direct Link
]
Update: Apple has removed HiddenApps from the App Store.