iTether App Offers Internet Tethering On Your iPhone for One Time Fee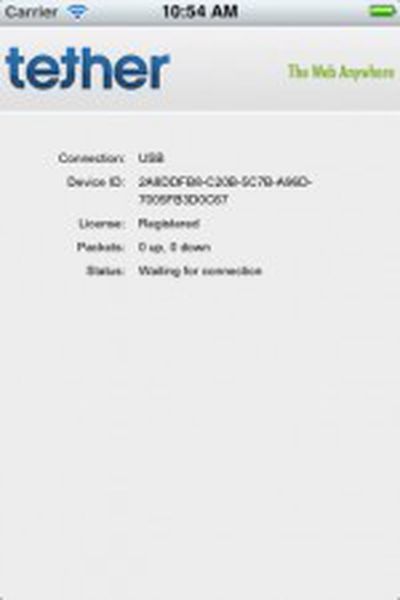 Tether.com has somehow gotten App Store approval for their iPhone companion application "iTether". The $14.99 App Store app allows users to share their iPhone's internet connection with their Mac or PC computer over USB.
Tether is an application that allows your Mac and PC to take advantage of your smartphone's data plan, providing you access to the Internet on your laptop anywhere there is cellular coverage from your smartphone.

Tether is easy to install, easy to use, works practically anywhere, and is very cost-effective.

To download the PC software visit:
http://tether.com/i/Tether-iPhone.exe

To download the Mac software visit:
http://tether.com/i/Tether-iPhone.dmg

Tether offers companion applications for the Mac and PC. Mac version shown here:


Running both apps on your iPhone and your Mac allows your Mac to use your iPhone's internet connection over a USB cable (no Wi-Fi or Bluetooth support). Apple has traditionally not allowed such applications to become available on the App Store due to agreements with carriers.
Back in 2008, Apple briefly approved another tethering app called Netshare but quickly pulled it from the App Store. Instead, users have been expected to pay additional fees to U.S. carriers such as AT&T and Verizon who offer tethering as an add-on service for $20/month. The approval of iTether may have been inadvertent by Apple again and could be pulled at any time. It is presently available in the App Store for $14.99. As in the case of Netshare, if Apple does pull the app from the App Store, it should continue to work for those who bought it.
Tether offers a similar app for both BlackBerry and Android platforms and has been reviewed in the NYTimes and Entrepreneur.com.
We should note that excessive unauthorized tethering has previously resulted in warnings from AT&T to users about their usage. In many of these examples, however, the unauthorized use was dramatic and on unlimited plans. Still, it is good to be aware of that possibility. [App Store Link]
[via 9to5Mac]
Update: Tether's website is presently down due to the traffic, which means you can't download the Mac/PC apps and it also appears the iOS app verifies with Tether.com on each run, so it won't work while the main website is down.
Update 2: Tether claims "We were very clear with Apple what our app did. They asked us a bunch of questions and then approved us." So it may not be getting pulled.