Bloomberg briefly notes that hedge fund Greenlight Capital has unsurprisingly dropped its lawsuit against Apple over a company-backed proxy proposal that had bundled together several provisions including a move to limit Apple's ability to issue preferred stock to investors without explicit shareholder approval. Apple CEO had previously called the lawsuit a "silly sideshow" and reiterated that view at Wednesday's shareholder meeting.
The withdrawal comes after a judge had preliminarily blocked a vote on the issue at Apple's shareholder meeting, with Apple officially withdrawing the measure from the balloting. Apple has said that it remains committed to addressing the preferred stock issue, but will have to do so at a later date.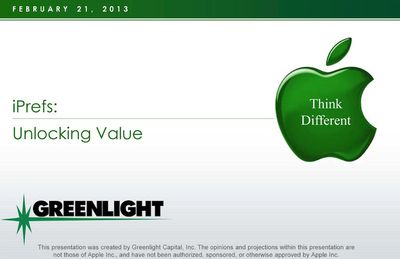 Greenlight's David Einhorn has become very vocal about trying to "unlock more value" for shareholders, and Apple has acknowledged that it is having discussions about how it might accomplish that beyond the existing dividend and share buyback programs initiated last year.