Digital Strength Drives First Growth in Music Sales Since 1999 as File Sharing Declines
AllThingsD points to a report from the International Federation of the Phonographic Industry (IFPI) revealing that 2012 saw the first growth in the music market since 1999, a milestone made possible by the strength of the digital music market.
Global recorded music industry revenues rose by an estimated 0.3 per cent to US$16.5 billion in 2012, the first year of industry growth since 1999. Digital revenues saw accelerating growth for the second year running, up 9 per cent, with most major digital revenue streams - downloads, subscription and advertising-supported - on the rise.
The report notes that download sales, a market dominated by Apple's iTunes Store, saw a 12% increase in volume. Downloads still represent 70% of the digital music market even as subscription services continue to make inroads and are expected to cross 10% of the digital market this year.
In particular, the report points to the rapid globalization of digital music access, with the number of countries having access to digital music growing from just 23 in early 2011 to well over 100 today. Apple's iTunes Store is a major part of that expansion, with the most recent move to add 56 new countries last December extending Apple's music reach to a total of 119 countries.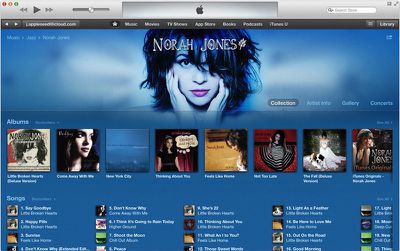 The report from IFPI comes just as research firm NPD notes that music file sharing in the U.S. fell sharply in 2012 as customers continue to embrace alternatives such as free streaming services from the likes of Pandora and Spotify. According to the report, the number of peer-to-peer (P2P) music download users fell by 17% last year to account for 11% of Internet users, down from 20% seven years earlier.
The volume of illegally downloaded music files from P2P services also declined 26 percent, compared to the previous year; however P2P wasn't the only sharing activity to shrink. Music files burned and ripped from CDs owned by friends and family fell 44 percent, the number of files swapped from hard drives dropped 25 percent, and the volume of music downloads from digital lockers decreased 28 percent.
NPD's survey indicates that 40% of consumers who had illegally downloaded music in 2011 had either stopped doing so in 2012 or reduced the amount of downloading, with availability of free streaming services being cited as the primary reason for the shift.